High Turnout for Both Arctic Futures Symposium and Arctic Shorts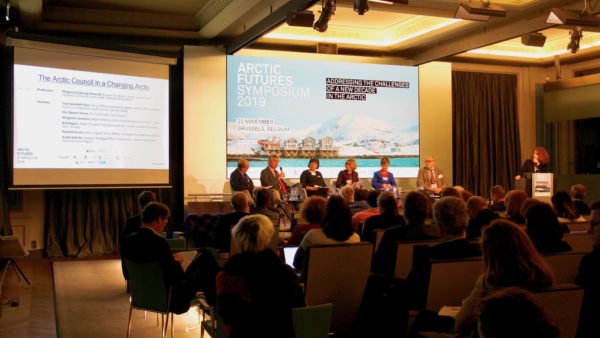 The Arctic Futures Symposium and the Arctic Shorts film evening have become institutions in Brussels. High turnout at both events showcased the continuing interest in the Arctic from both Arctic stakeholders and the general public.
On 18 November, the Arctic Shorts Film Evening, which returned to BOZAR Centre for Fine Arts for its second edition, repeated the same success of 2018, welcoming a full house of more than 350 people to watch seven Arctic short films made by filmmakers from different parts of the Arctic. The topics treated in the films included climate change, indigenous cultural traditions and involvement of the next generation of Arctic youth in their regions, and societal issues. One film was even a science-fiction thriller!
Many audience members also stayed after to take part in a question and answer session with two filmmakers whose films had been shown, Odile Joannette, Executive Director of Wapikoni Mobile and maker of the film Katatjatuuk Kangirsumi, and Inuk Jørgensen, the Director of the Greenlandic Film Home.
Exactly one week after the Arctic Shorts film evening on 25 November, Brussels saw the 10th Edition of the annual Arctic Futures Symposium organised by the International Polar Foundation together with its many Arctic Stakeholder partners, and the financial support of the Brussels Capital Region. The all-day symposium, held at the Residence Palace in Brussels' EU Quarter, welcomed many highly distinguished contributors, from a wide range of disciplines and backgrounds. Looking at topics such as safety and security, gender issues, Arctic workforce and demographics, and the Arctic bio-economy were very much appreciated by symposium participants.
As always, the venue was packed, and the questions were plentiful, showing that there continues to be a strong interest to discuss Arctic issues in Brussels.
Grateful for the success of these events, the International Polar Foundation would like to thank everyone who helped make this event a huger success, whether sponsor, parnter, or attendee!
Keep an eye on this website for information about the next edition of the Arctic Futures Symposium. We hope to have a few new surprises for the next edition of the symposium!