Arctic Shorts Makes a Great Impression for a 3rd Time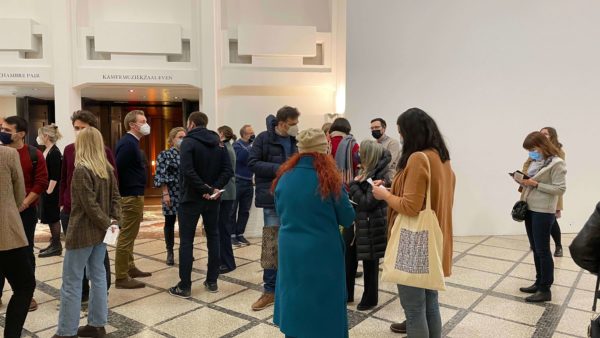 On Wednesday 26 January the Arctic Futures Symposium partners welcomed around 150 people to the Arctic Shorts film evening at BOZAR Centre for fine Arts.
Thanks to the organizional leadership and financial support of the Mission of Canada to the EU and all of the Arctic Futures Symposium partners who contributed films from their respective regions, the 3rd Arctic Shorts film evening was a major success.

COVID safety measures at BOZAR (which included a COVID-safe ticket, wearing a mask at all times, and social distancing in the cinema) only allowed part of the auditorium to be filled, so this time only 150 people were able to enjoy eight Arctic short films. Despite the limited numbers, the atmosphere was very lively, and attendees appreciated being able to see fellow fans of the Arctic yet again.
The evening started with brief welcomes from Judith Gelbman, Councellor at the Mission of Canada to the EU, and Michael Mann, the EU Special Envoy for Arctic Affairs. Then the the audience was treated to a variety of films to experience the breadth of creativity from across the Arctic region ranging from drama to comedy, some having an environmental message. Several filmmakers introduced their films, albeit via pre-recorded video taken on their phone or computer.
We would like to to thank again to the Mission of Canada to the EU for leading the organization and all the Arctic Futures partners for their support and all of our Arctic Futures partners for their help in making this event possible
We're already looking forward to see you all at the next edition soon!